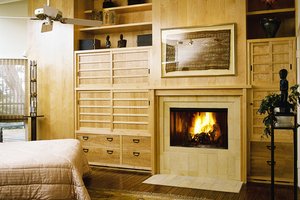 A master suite addition is limited only by your imagination and pocketbook. Here's a look at master suite must-haves.
Options for a master suite addition are limitless: Your budget, not so much. Indulge yourself, express yourself, but control yourself, too. Here is your guide to the master suite features that matter most.
Master suite basics
A master suite addition typically is about 400 sq. ft. and includes a spacious bedroom, a walk-in closet, and a bathroom with a walk-in shower, designer toilet, separate soaking tub, and double-sink vanity. With midrange finishes, such as ceramic tile and solid-surface countertops in the bathroom, a master suite costs an average of $103,884 ($271/sq.ft.) and returns about 68% at resale, according to the 2014 Cost vs. Value Report from Remodeling Magazine.
An upscale master suite addition is bigger — 650 sq.ft. — and includes a separate sitting area in the bedroom with custom built-ins, fireplace, French doors leading outside, and even a wet bar and refrigerator.
The bathroom is more luxurious, too, with multiple body sprays in the shower, a separate toilet area, a soaking tub for two, and twin sinks, each with its own vanity. Instead of solid surfacing and ceramic, the countertops and floors are stone. According to Cost vs. Value, an upscale project averages $224,989 and returns 56% at resale.
Start with a good layout
When you dream about a master suite addition, drool over a deep soaking tub. But when you plan, think about privacy, convenience and view — the gifts to yourself that keep on giving.
Privacy: Create a space that feels like an escape from life: OK, escape from the kids. For that, you'll need privacy, so place closets — they're sound barriers — between you and the hubbub of the house, or on walls shared with other bedrooms.
View: Give your master suite addition the best view through the biggest windows. If neighbors are nearby, place windows at about 5 ft. above the floor so you can enjoy the view, but your neighbors can't (if you know what we mean).
Separation: Think also about whether you'd prefer your bedroom and bathroom separated by a door or small hallway. An open plan can make the master suite feel bigger and more luxurious — but it can also invite humidity and odors into the bedroom, so you'll want an extra-powerful ventilation system if you go this route. It's also a good idea to isolate the toilet in its own room or alcove so two people can use the space at the same time and still retain some privacy.
Here's a list of Master suite must-haves
Tags: #ChathamGA, #DavidSaba, #GAOpenHouses, #GARealEstate, #GeorgiaLiving, #HomeValues, #PoolerGA, #PoolerGAOpenHouses, #PoolerGARealEstate, #RinconGA, #RinconGARealEstate, #SavannahGA, #SavannahGARealEstate, chatham county ga, chatham county ga real estate, david saba, georgia living, georgia real estate deals, rincon ga, rincon ga real estate, savannah ga, savannah ga land for sale, savannah ga real estate